Mirissa Beach
Mirissa Beach is close to the most Southern tip of Sri Lanka and in fact the Indian sub-continent as well.
In the morning time you are greeted by gentle colourful sunrises and then the sun crosses directly overhead throughout the day finally ending up give you a breathtaking and memorable sunset.
Each evening at sunset Mother nature offers you something different, one night the sunset could be fiery red and then the next it can the most beautiful pastel pink.
Many people grab a cool beer, bring restaurant chairs out onto the sand and sit and watch in awe at the array of colours as the sun sets behind the coconut trees on the hill.
The shoreline is blanketed with coconut trees and all the buildings and the places to stay in Mirissa are set back from the shore giving you the feeling that you are on a totally deserted beach somewhere .
Most people start off early on the beach and abandon it close to midday as the heat becomes intense around then. It's a great time to retire to one of the many beach side bars and restaurants to replenish your lost fluids with a cool beer or a snack. After about 2pm you will start to see people coming back for their afternoon tanning session. Most of the guesthouses in Mirissa have beach chairs on the sand outside their back gate.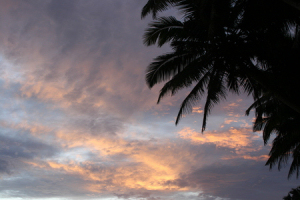 Unlike Tangalle and the beaches further along the coast, the shoreline of Mirissa beach gracefully slides into the ocean and there is no dangerous shelving making it a great place to bring kids and to leave them alone without too much worry. You can walk out into the water for about 20 meters before the water becomes waist deep. Beaches further up the coast have sharp drops and hidden shelving in the sands.